Japan
On our way back from Thailand we stopped in Japan to visit Miyuki's Family. While there we went to Okayama to visit her grandmother and uncle, saw the sights in Kyoto, spent time with friends, and celebrated our wedding. As much fun as Thailand was there is something special about Japan.


The views from Miyuki's grandmother's house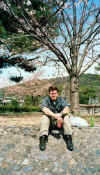 Ben relaxing in front of some cherry blossoms

Miyuki by the river

Miyuki enjoying the cherry blossoms
Well I guess that's the whole story. We hope that you enjoyed our pictures and our memories. Feel free to come back and look at the pictures as often as you wish. You can also download them and keep some if you want. we hope to see everybody soon.
Ben & Miyuki